Paterson's Karate Works is more than a martial arts school. It is a place where all who join can enhance their life skills. The foundation of our program revolves around martial arts instruction which is both rewarding and fun.
At Paterson's Karate Works we teach a combination of Karate, Tae Kwon Do, and Jiu Jitsu. We have found the combination of awesome kicking techniques of Tae Kwon Do, the very effective hand techniques of Karate, and the throws and restraints of Jiu Jitsu form a self-defence system which is very effective and efficient. It is also exciting and fun which makes the learning process more enjoyable.
Mission Statement
We are dedicated to providing a welcoming environment focused on positive thinking. Here, at Paterson's Karate Works, all members, their friends, and families are treated with respect and equity. We say "equity" instead of "equality" because we strive for "fairness" when dealing with individual family needs, not "sameness". Treating everyone associated to our club in this manner gives the positive effects of our environment the greatest reach.
Our Philosophy
CANI (Constant And Never ending Improvement)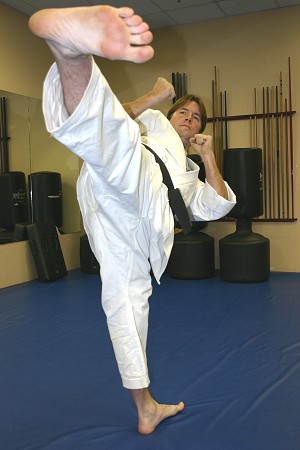 Remember our goal in martial arts training is to become the best we can possibly be, whether physically or mentally, we are striving for Black Belt excellence. Our goal is not to become a yellow belt and stop there. This is a short term goal, the long term goal is to become a Black Belt. Even after you receive a Black Belt constant improvement is still a goal.
You may get frustrated by doing some things over and over, but repetition will make these actions second nature. If you start to get frustrated have a talk with one of the instructors or higher belts. They have likely gone through similar experiences and can help you on your way to Black Belt excellence. Just don't give up. Be one of those few people who do not give up and make it to that Black Belt. How many people do you know that have taken Martial Arts and quit before they reach Black Belt? Probably lots! Most people tell us they wish they had stayed with it. Be one of those people that have the physical and mental discipline to stick to it. Be special.
It is our job to keep the program interesting and stimulating for you. If we are not doing it, let us know. At Paterson's Karate Works, we believe an instructor is measured by the students.
Profile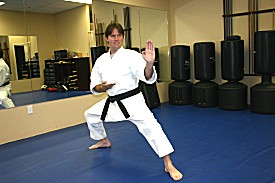 In 1994 I opened my own studio with nothing more than the joy of martial arts in my heart and a few pennies in my bank. Today my studio has a comfortable membership of around 400 students, a great group of Black Belt instructors, and not a single person on an annual contract. Yes, I am also in the business side of martial arts, and for me the success of my studio lies in how and what you teach, not in a contract.
Fast forward 23 years and here I am. Originally trained in ITF Tae Kwon Do, I then started studying Shotokan Karate, then Japanese Goju-ryu, followed by Jiu Jitsu. I added to my knowledge by studying bushido (weapons), Tai Chi, Wado Kai Karate, and currently Kendo. Actually, there's not that many martial arts that I haven't done. I've met many masters, watched (if not competed against) many World Champions, and been involved in over 500 competitions as either a competitor, coach or judge. I continue to review the different styles and always seek new insight into the evolution of martial arts.
As I continue to learn about the martial arts, I am always amazed at how the basics of each style are so similar. Early on I thought "Of course everything is similar, people are all made the same way. A fist is a fist is a fist, all over the world." I have questioned all the hype made about the differences in the martial arts styles since that thought entered my head many years ago.
I view today's martial arts as serving our current society's needs. Self-esteem and relationship issues attack people more than bullies or bad guys do. So just like the old kung fu movies of my youth I focus on teaching not only the amazing techniques from the many different styles I know, but also the character development training that I honestly feel is a must for anyone involved in the martial arts.
Throughout my young martial arts career I've met great Black Belts and not so great Black Belts. I won't spend much time on the not so greats. However, t
he not so greats had, and continue to have, a major impact on my career. I believe the most important part of your martial arts training should be about who you are as a person, not your rank. As a Black Belt, you should realize the incredible responsibility that accompanies being a Black Belt. People who do not do martial arts will be impressed with your accomplishment a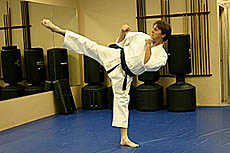 nd people working towards a Black Belt will hold your opinion in high regard. In a society of fallen idols a Black Belt and what it symbolizes is a breath of fresh, strong and wholesome air. Then you come across one of the bad guys in the martial arts. Their Black Belt came with way too much ego, their methods of training are more abusive than helpful, or they even put the almighty dollar ahead of integrity. Well eventually they do end up like the movies, losing everything. It's the people affected along the way that bothers me.
There is a new breed of martial artists emerging. They teach quick fix approaches with gross motor control movements and nerve cluster striking and if it saves you one day, great. Does it make you a better person? The better person part comes from struggling to achieve your goals. It's why the Black Belt is so honoured. If you have one, you know exactly what you had to do in order to get it. And guaranteed, it has made an impact on your life and who you are.
Respect, seek it and it will evade you, demand it and it hides, but take complete responsibility for your life and it will embrace you forever.
Everyday I enjoy the journey that the martial arts has put me on. I encourage you to enjoy your martial arts journey as well.